Butterfly season round up 2023
A fascinating round up of Carymoor butterflies
2023 Butterfly report by volunteer butterfly recorder Julian Rawlins
Last year I concluded my review of the butterfly season by saying "It will be most interesting to see the numbers next year; the very hot weather may have damaged larval food plants at critical times and experience shows that some species suffer sharp declines after severe heat and drought." I also wrote "the Brown Argus sadly continued a downward trend and had its worst year since 2016 with a fall of 54%."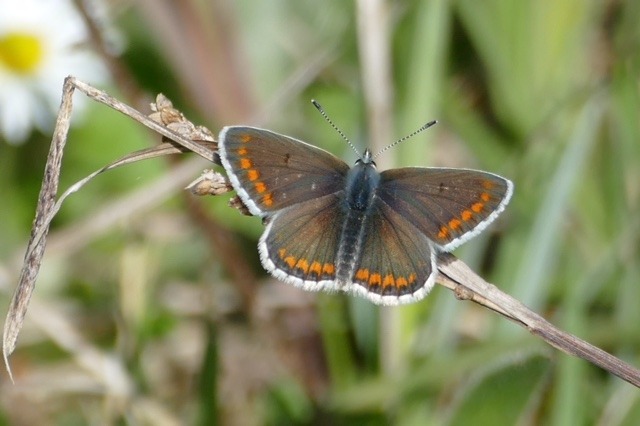 Brown Argus
But butterflies never cease to amaze me; the more you think you know the more you realise how much more there is to learn: 2023 has been the best in terms of numbers since 2020 (when because of Covid the level of counting was reduced); and the Brown Argus has easily had its best year since I started recording 11 years ago! I find this difficult to understand because, after the exceptional weather in 2022 and a good start to the season this year, the weather has not been kind.
March was relatively cold and drenchingly wet; April, too, was cold and very wet. May was about average but June was hot and dry; thereafter, with the exception of a warm spell in September, temperatures were mostly below average and rainfall well above it – there have been many moans about a missed summer.
Against this background, it has been a very good year for our butterflies; I recorded 2,795 compared with 2,323 last year, despite missing some weeks at the peak of the season. Only 25 species were recorded, down from 27, but last year we had a single Silver-studded Blue and a good number of Clouded Yellows, both of which were absent this year. The lack of Clouded Yellows was surprising; bearing in mind that these butterflies are annual immigrnts from the continent and the extroardinary heat waves that were experienced there this year, one might have expected a large influx.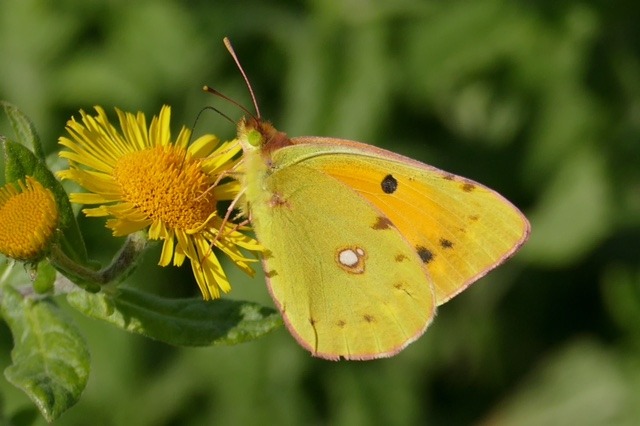 Clouded Yellow
Of the 25 species, 17 increased in abundance this year, several very substantially. I have already mentioned the Brown Argus, which must be a contender for Butterfly of the Year; another record breaker was the Brimstone, with a count of 145, an increase over last year of 208%. Although not a record breaker in terms of numbers, the Red Admiral increased by 211% over last year to a count of 84 (in 2017 I counted 146 Red Admirals).
The Red Admiral breeds and does now over-winter in the UK, but its numbers are also boosted each year by immigrants from the continent; it can be seen on the wing in every month of the year, whenever there is sunshine – I have seen one on a Boxing Day, there are a couple still feeding on the rotting grapes on my vine as I write on 30th October and a couple of weeks ago there were 11 of them at the grapes. It is also one of our most colourful and beautiful butterflies: for all these reasons I have selected the Red Admiral as my butterfly of 2023.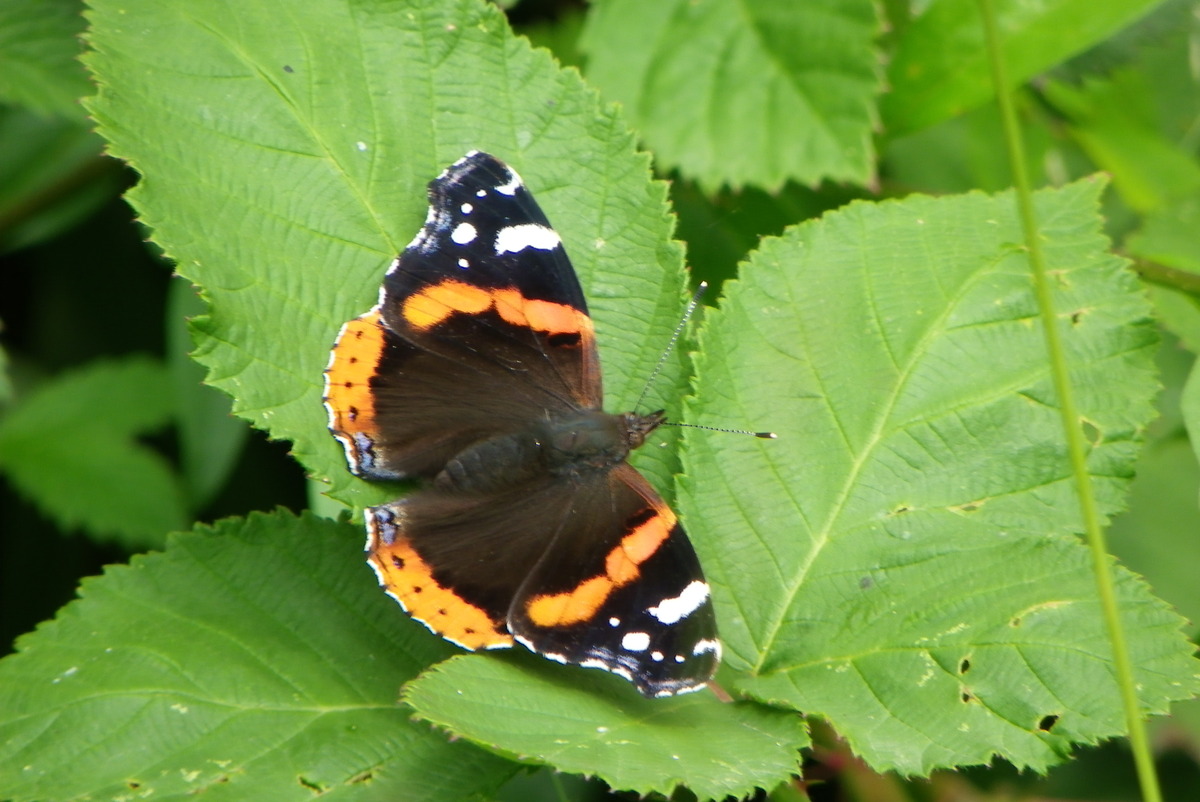 Red Admiral
Other species that have done well include the Holly Blue. Its numbers dwindled to just 1 in 2021, its population having been ravaged by its parasitoid wasp, but it is now emerging from its trough; last year there were 7 and this year 18. Gatekeepers and Marbled Whites both had a very good year, increasing by 66% and 64% respectively and the Gatekeeper was second in the overall list with a total of 336 records. The overall winner once again was the Meadow Brown with a modest gain of 19%. Dingy Skippers continue to do well with a small increase to 50 records, including one from a second brood on 23rd August; the first brood flight period ends in June. Both the Small White and Green-veined White also had a good year and there were 3 records of the Brown Hairstreak, with several more unconfirmed sightings of this elusive butterfly.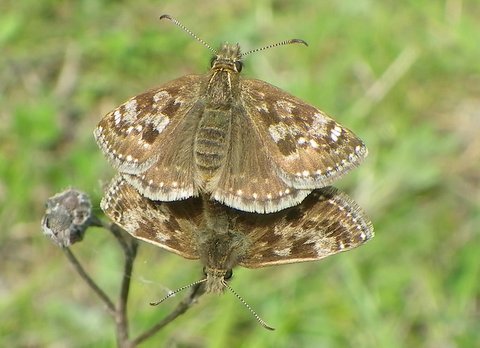 Dingy Skippers
On the debit side there were some surprising losses. Gardeners may be pleased to hear that the Large White ( the only 'cabbage white', its scientific name being Pieris brassicae) declined by 67%. This is surprising in view of an increase in the other white butterflies and because this is another of those species whose numbers are boosted by immigrants from the continent; but we have seen that other immigrnt species have not done so well this year and the same applies to the Painted Lady – only 4 were recorded, compared with 9 the year before. Another surprising fall was the number of Ringlets, which last year came second overall, down by 56% to 92, equalling the record low for this species back in the lean year of 2017.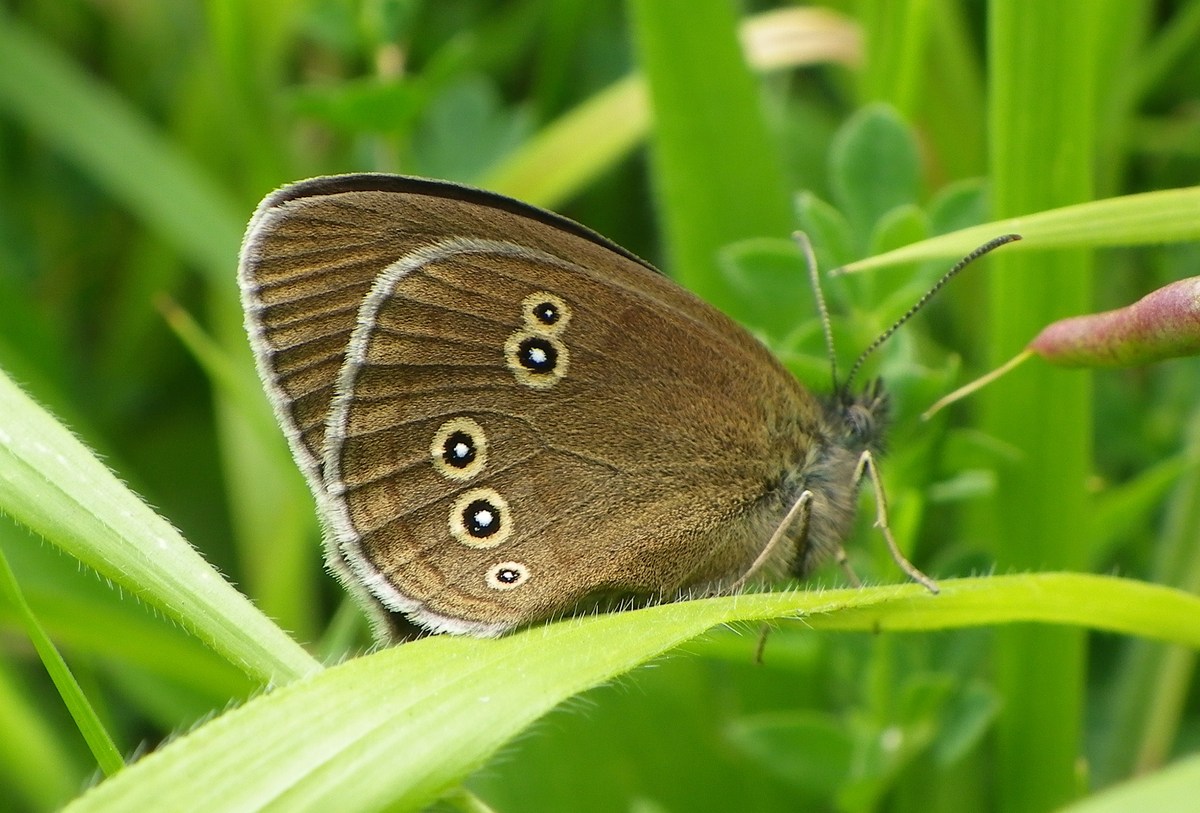 Ringlet
There was a disappointing fall in the numbers of Grizzled Skippers, down by 53% but their numbers do fluctuate considerably and the count is not far short of the average over the last 11 years. The Common Blue fell by 22% to record its 3rd lowest score. Most concerning, however, was another fall in the number of Small Tortoiseshells. One of our most beautiful and once most common butterflies, its numbers have fallen from a high of 973 in 2014 to a low of 26 in 2018; there followed a modest recovery to 110 in 2021 but it has fallen over the last 2 years back to 49 this year. Conservationists have been worried about the decline of the Small Tortoiseshell for several years now and clearly with good reason.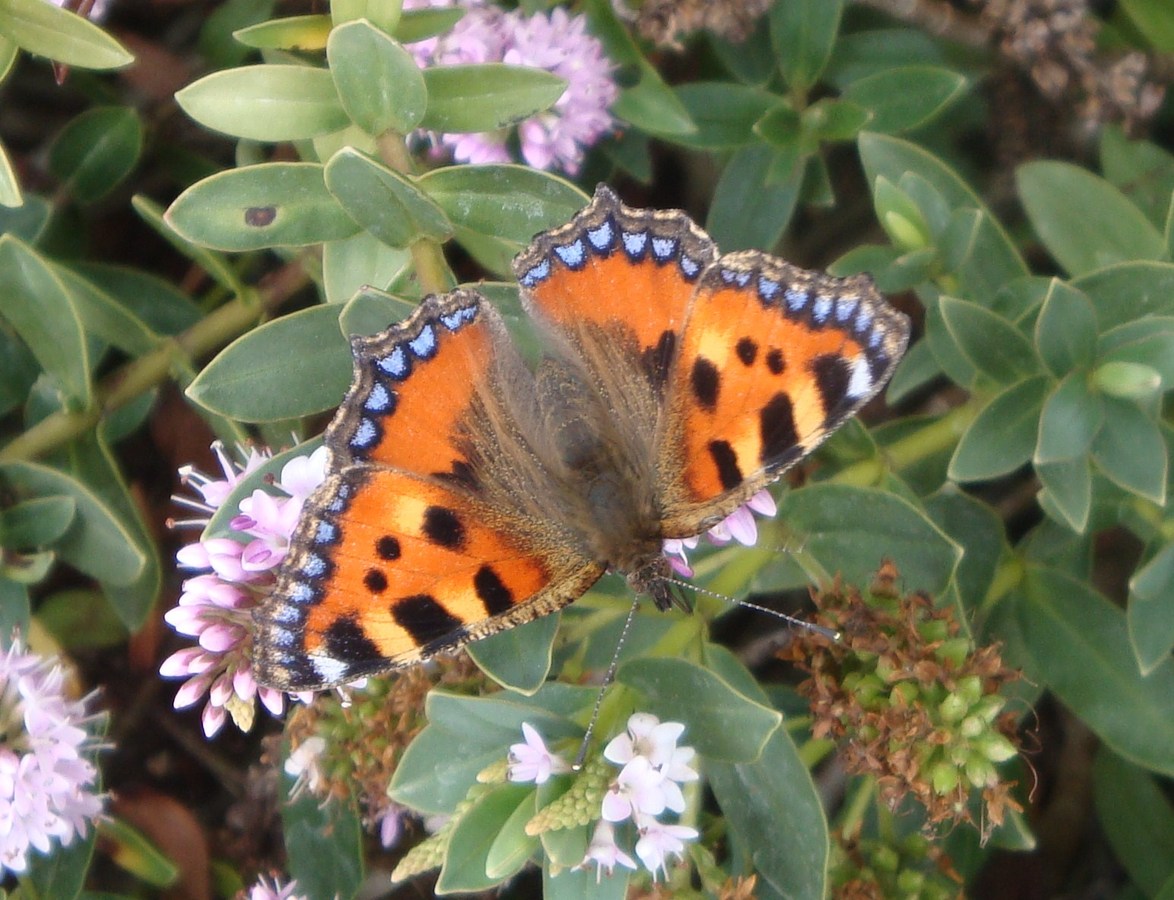 Small Tortoiseshell
These findings mostly reflect the results from other recording schemes; the Red Admiral was the most abundant butterfly in Butterfly Conservation's Big Butterfly Count, which revealed a better picture for butterflies than had been feared. The outlyer here is the Large White, which elsewhere increased by 11%; and it was interesting to note that nationwide the Holly Blue was more common than the Common Blue!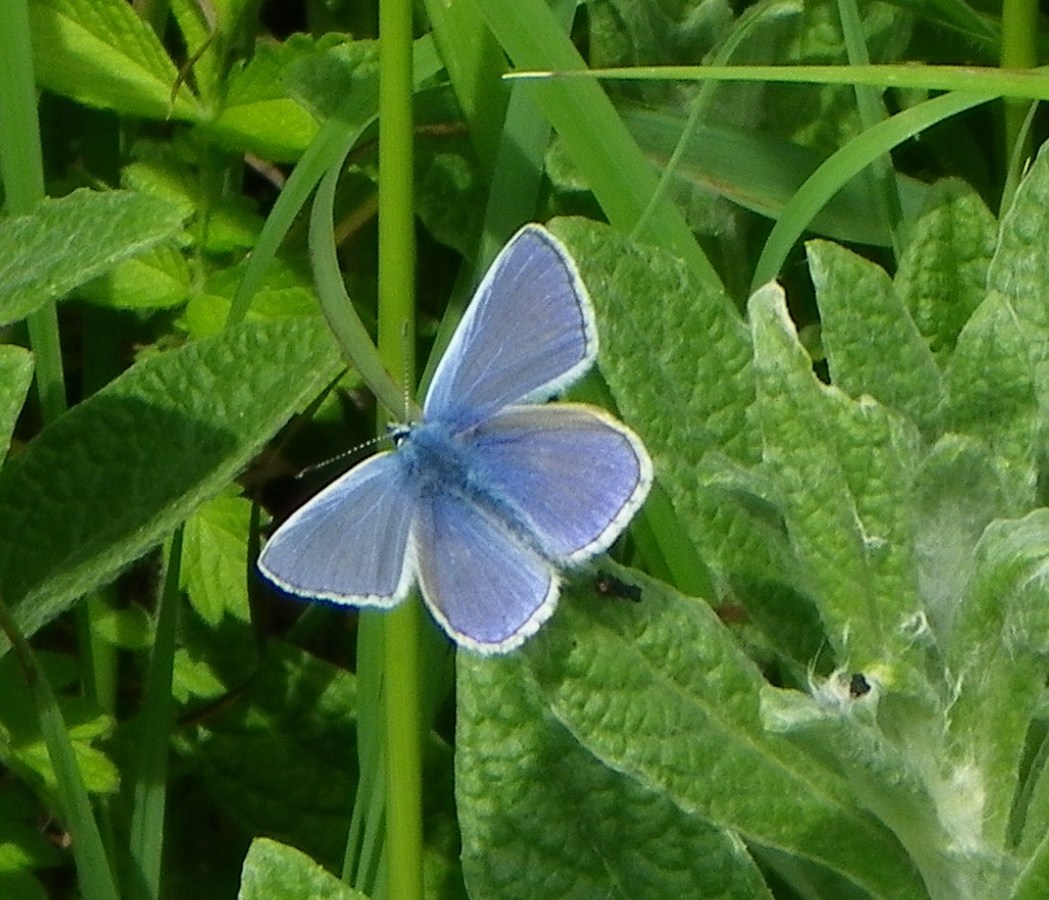 Male common blue
Whilst the better numbers in the last 2 years are really good and encouraging news, there is no room for complacency; this year's count of 2,795 is below the average for the last 11 years (3,083) and 40% below the count of 4,656 in 2013 when my records started and the number of walks was comparable. Likewise, the average number of butterflies per walk for 2013 and 2023 has fallen from 212 to 133. So please bear our butterflies and other insects in mind and if possible make a place for them in your garden.
If you would like to see pictures of these or other local butterflies please visit the Photo Album at https://www.northbarrow.org.uk/photos/ and don't miss the recent additions.
Julian Rawlins
30/10/2023