Butterfly season 2022 round up
Carymoor butterfly report by Julian Rawlins
Which golfer was it who said "the more I practice, the luckier I get!"? Well so it is with butterflies – the more time I spend looking for them, the more interesting specimens I find and most years something special turns up at Carymoor Environmental Centre.
This year I noted in my diary on 20th June that I had walked my transects and counted 234 butterflies; I had seen a Comma butterfly caught by a spider; and I had seen "an interesting Brown Argus" - it was an exquisite little butterfly in mint condition, sitting on a blade of grass enjoying the late afternoon sunshine and I was lucky enough to get just one photograph of it before it flew off. Later, when I examined the photograph, I found, firstly, that it was not quite as sharp as I had originally thought and, secondly, that it was indeed interesting – the orange sub-marginal wing markings were not typical of a Brown Argus and it lacked the black spots on the forewings.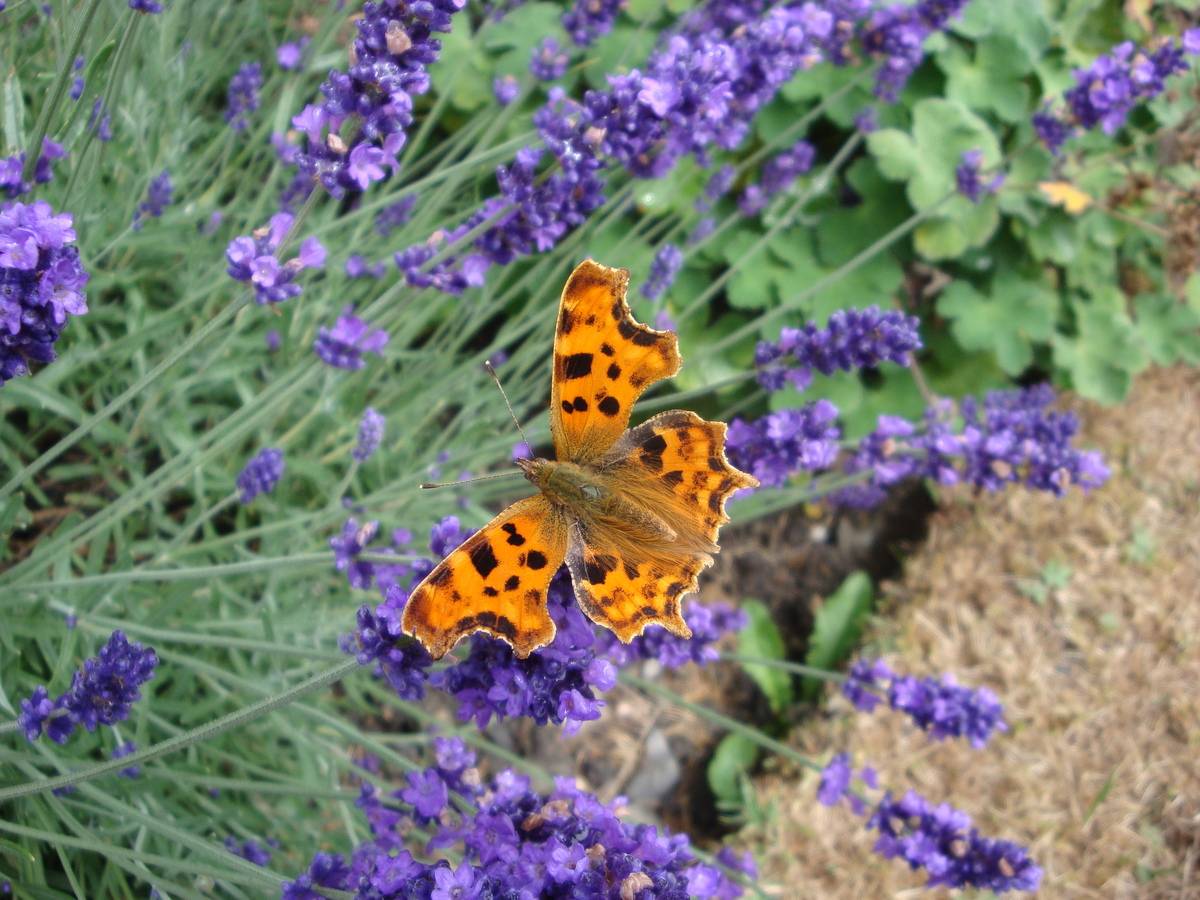 Comma
After spending considerable time looking at my books and other images of Brown Arguses I began to believe that my Brown Argus could possibly be a female Silver-studded Blue. I sent the photograph to the Somerset County Butterfly Recorder, who not surprisingly and for very good reasons, not least of which is that the Silver-studded Blue is not listed in the latest Somerset Butterfly Distribution Atlas, thought it was a Brown Argus but he kindly agreed to send it on to a friend at Exeter University who is studying for a PhD on the Silver-studded Blue. To our great delight, it was his opinion the this was indeed a Silver-studded Blue. This is normally a butterfly that lives in colonies, so a search was subsequently made to see whether any more could be found; and I reviewed my photograph collection to see whether I had missed any previously but without success in either case. There remains the possibility that the butterfly may have been bred in captivity and released, a practise which is frowned upon because it makes it more difficult to determine how wild populations are faring.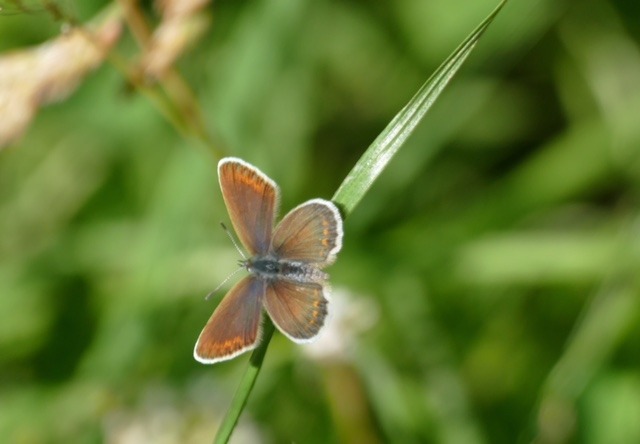 Our first Silver Studded Blue
So how are they faring? At Carymoor they appear to have been holding their own over the last few years; numbers fluctuate but are roughly stable and although average numbers per count may be declining these averages are inconclusive, as they are so dependent on when a count is made – a count in early April may produce 25 records while one in mid July could produce 350. This year 27 species - one more than last year - were recorded, 14 of which increased in number over last year or reappeared after an absence, and it was especially pleasing to have the Brown Hairstreak back on the list after an absence last year.
Brown Hairstreak
Once again, the Meadow Brown was the most abundant of our species, despite a very small fall in numbers. Last year the Marbled White was in second place but the count this year was down 36% and second place was taken by the Ringlet which increased by 45%. It is worth noting that the Marbled White has a relatively short flight period, and a missed count in this period could well distort the numbers; the 36% fall is in the numbers counted, not necessarily in the population itself. The Gatekeeper was a short head behind in 3rd place, with an increase of 80%.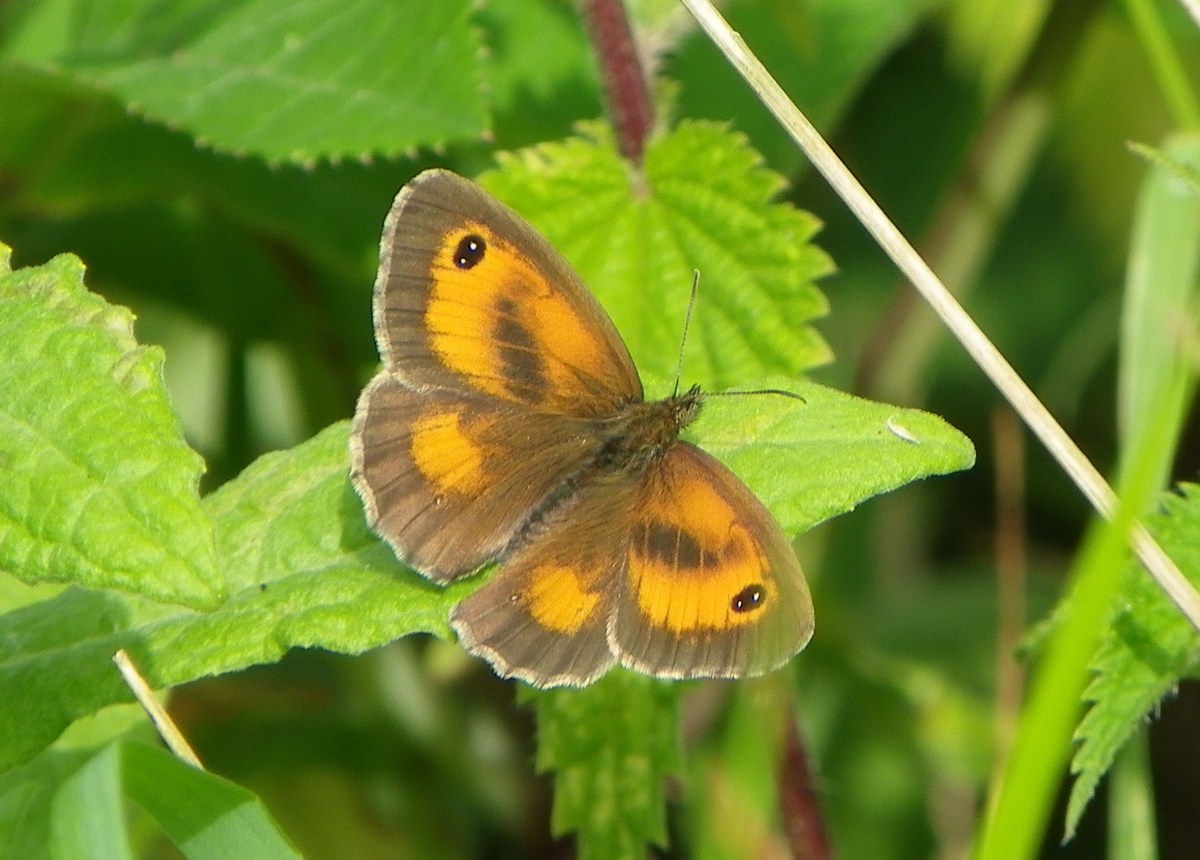 Male Gatekeeper
Two Carymoor rarities, the Grizzled Skipper and the Dingy Skipper both fared well this year with increases of 61% and 19% respectively, althought the latter, which occasionally has a second brood, did not do so this year.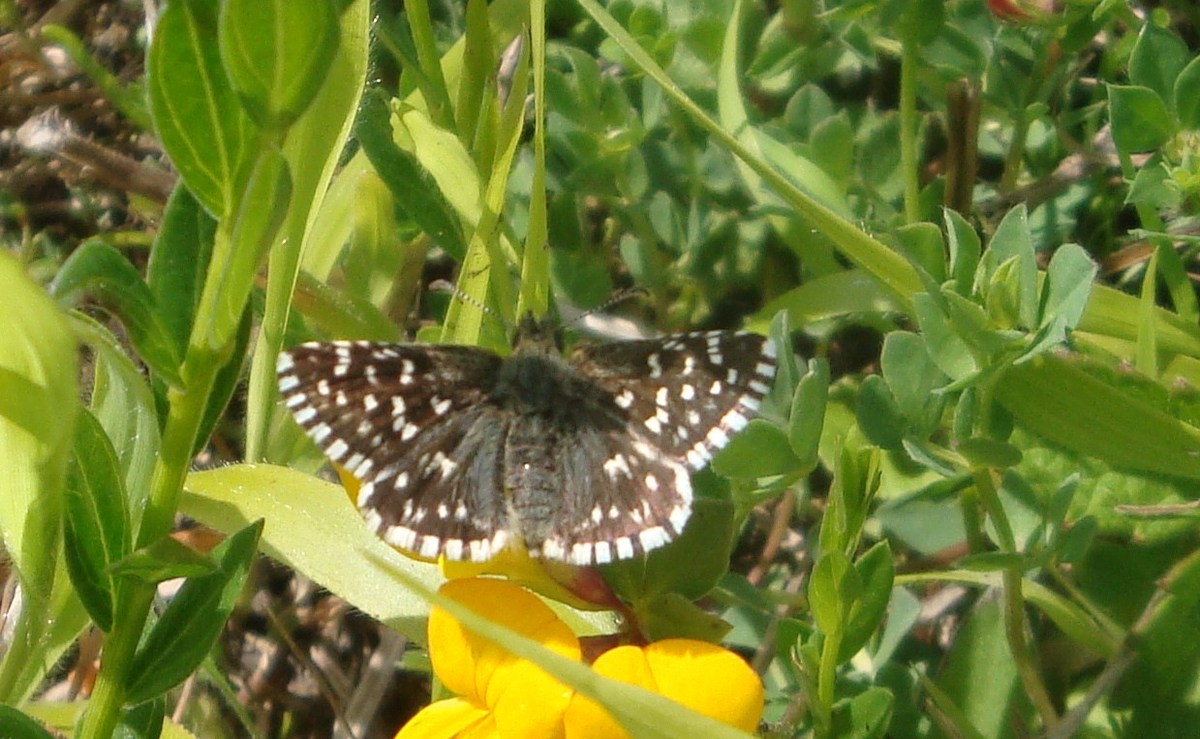 Grizzled Skipper
There is little doubt that the hot weather coming in from the Continent brought some butterflies with it. Large White numbers increased by 100% this year, some of which can almost certainly be attributed to immigrants from Europe, but surprisingly both Small and Green-veined Whites were slightly down.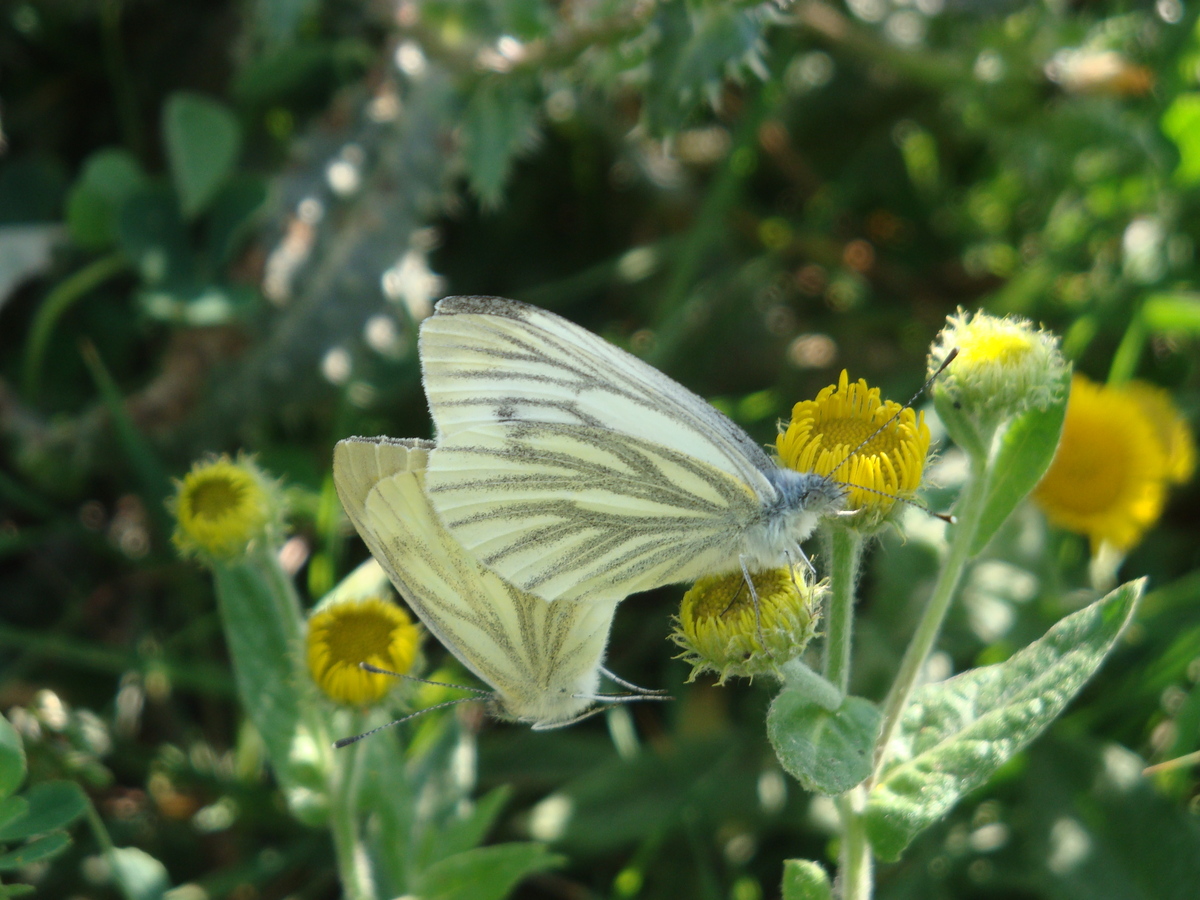 Green Veined Whites
However, the principal beneficiary of the hot weather was the Clouded Yellow, an annual migrant which breeds in this country but cannot survive the winters; 25 were recorded, the highest number since 2014 and none were recorded last year. The Clouded Yellow always settles with its wings closed and it is a powerful flier so it is difficult to see the top side of the wings, but I was lucky enough to see a male trying his luck with a reluctant female and so was able to get a reasonable photograph of the topside of this most beautiful butterfly; for all these reasons this has to be my Butterfly of the Year.
The Common Blue had another good year with an increaseo of 21% but still has some way to get back to its last peaks of 2018 and 2019. Likewise, the Holly Blue, whose population is ravaged from time to time by a small parasitic wasp, is coming out of a trough - 7 were recorded after a singleton last year.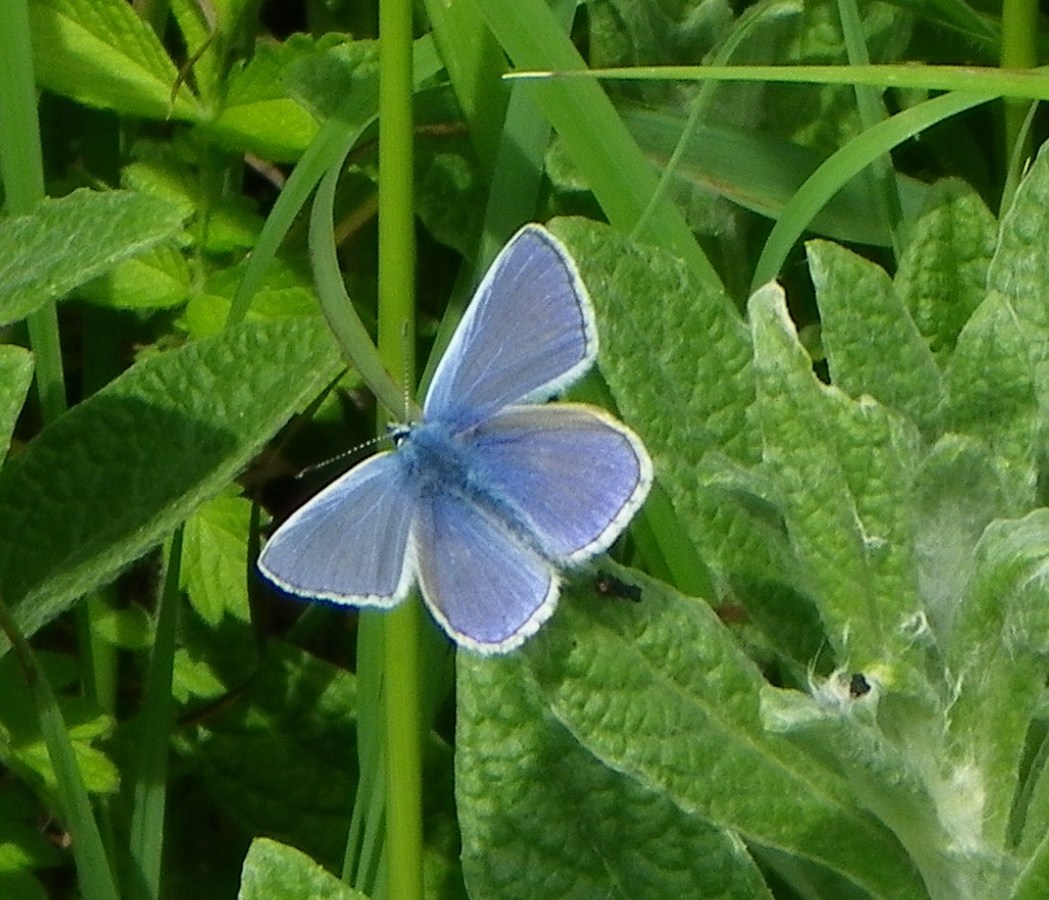 Male Common Blue
On the debit side, last year's Butterfly of the Year, the Brimstone, fell back to more typical numbers with a drop of 25%. The Small Tortoiseshell has caused concern for several years now; its numbers at Carymoor have ranged from 973 in 2014 to 26 in 2018; since then it has come back to 110 last year but this year fell back again to 73. Normally there are 2 broods each year but this year only 16 were recorded after the end of June; last year 78 were recorded in the same period. The reason for the failure of the 2nd brood may be that the larvae and/or pupae were baked by the hot weather.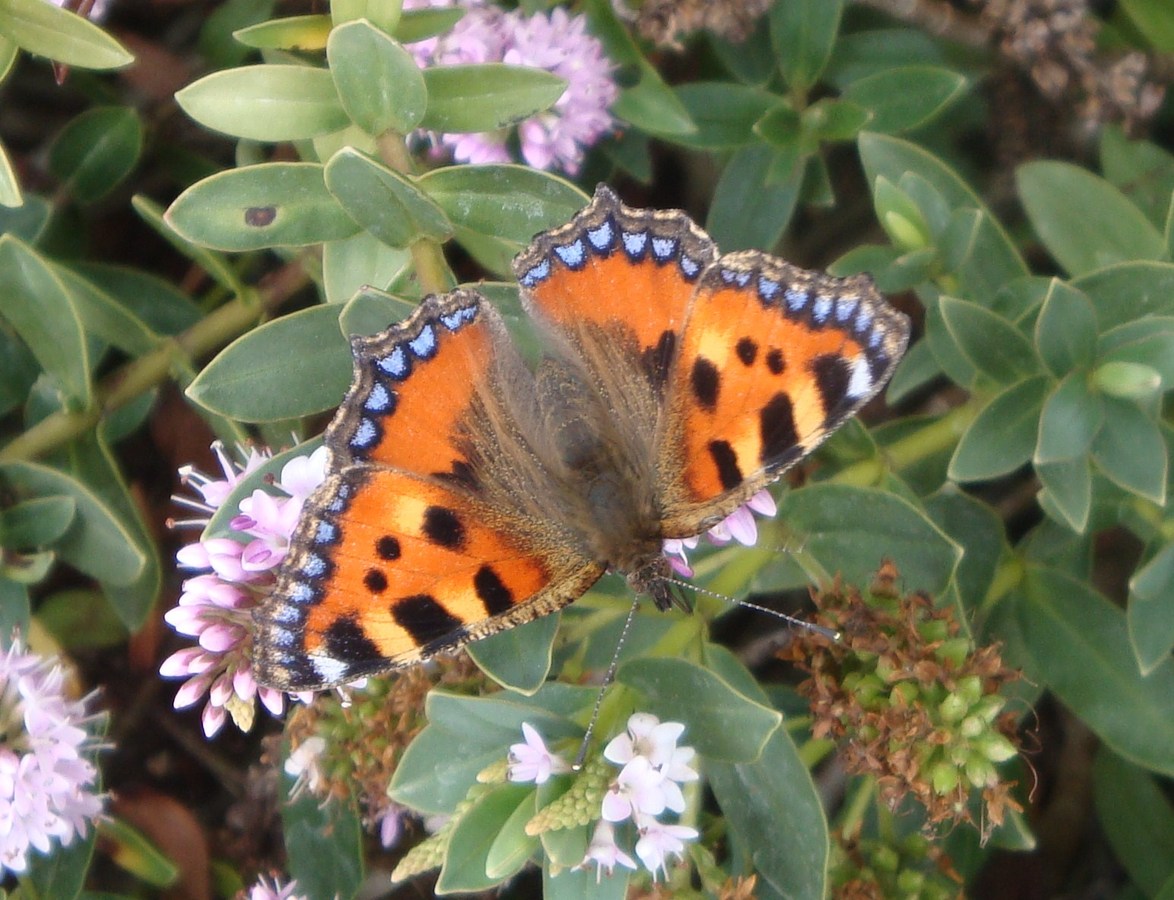 Small Tortoiseshell
The Orange Tip, that lovely harbinger of spring, was down by 31%. And finally, to complete the circle and come back to our starting point, the Brown Argus sadly continued a downward trend and had its worst year since 2016 with a fall of 54%.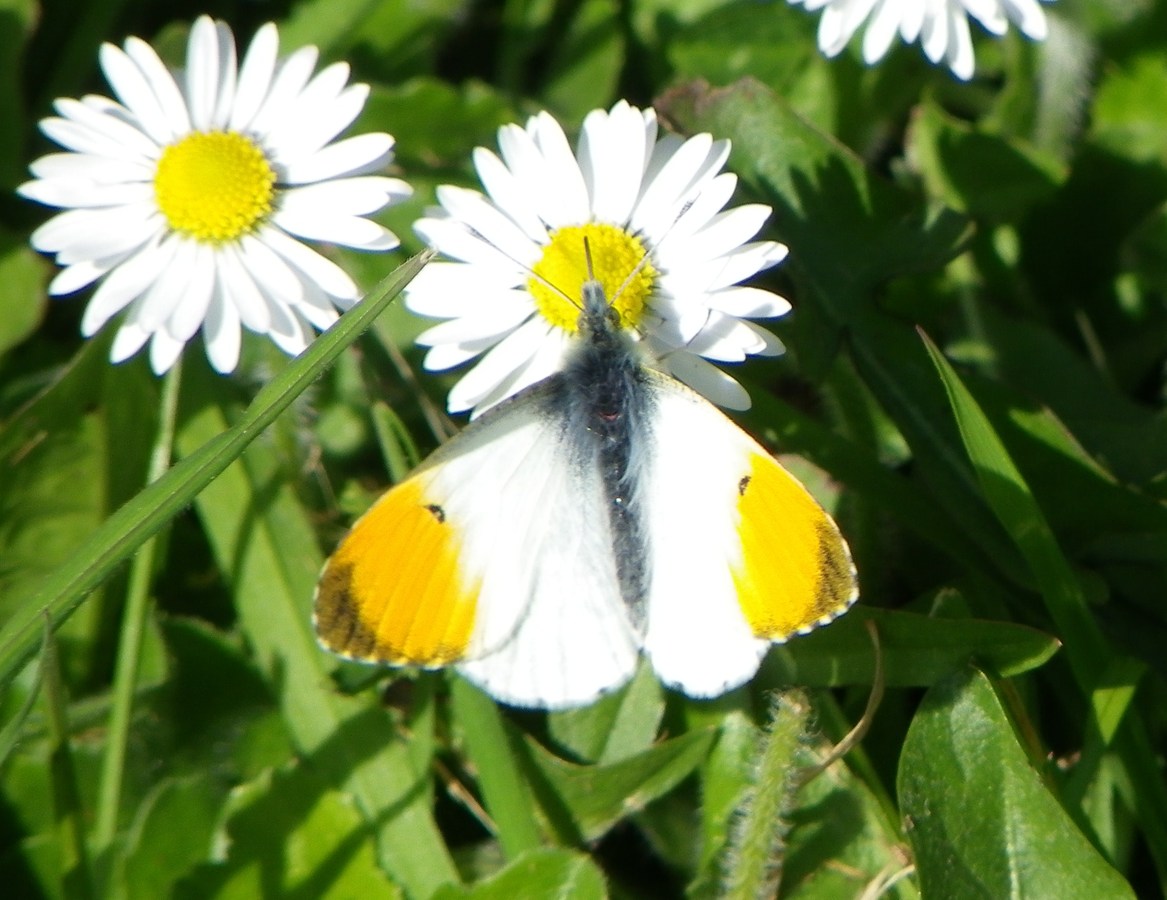 Male Orange Tip
In conclusion, 2022 has been an exciting and generally satisfactory year for the butterflies of Carymoor. It will be most interesting to see the numbers next year; the very hot weather may have damaged larval food plants at critical times and experience shows that some species suffer sharp declines after severe heat and drought.
If you would like to see other pictures of my butterfly sightings please visit the Photo Album at https://www.northbarrow.org.uk/photos/ and don't miss the recent additions.